12 février 2012
ATSAW ... Pôle Emploi bonjour ?
ATSAW (Airborne Traffic Situational Awareness) ... vers l'autoséparation à l'horizon 2025 ou comment bientôt les équipages auront plus d'informations sur le traffic environnant que nous n'en aurons sur nos écrans !
C'est à lire sur Flightglobal ...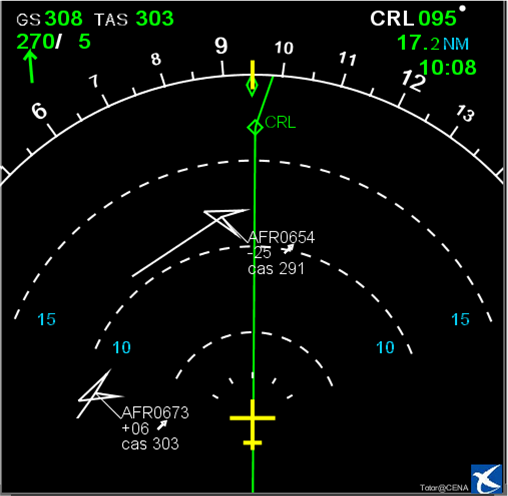 "Swiss International Airlines has just operated the first commercial flight equipped with an approved traffic situational awareness system, providing the pilots with a real-time picture of surrounding traffic on their navigation display.
On 7 February a Swiss Airbus A330-300 equipped with European Aviation Safety Agency certificated airborne traffic situational awareness (ATSAW) system flew from Zurich Airport to Montreal.
The aircraft was taking part in the Eurocontrol CASCADE programme's ATSAW pioneer project, which will involve 25 Airbus and Boeing aircraft belonging to British Airways, Delta Air Lines, Swiss, US Airways and Virgin Atlantic. It also involves the UK and Icelandic air navigation service providers, NATS and ISAVIA, as they provide ATC services for a large area of the North Atlantic where the most significant and most immediate advantages from ATSAW can be delivered.
ATSAW provides pilots with a real-time picture of the surrounding traffic during all phases of flight, including aircraft identification, flight level and track. On Oceanic routes where air traffic control has no radar picture of traffic, ATSAW enables the pilots to identify opportunities for a safe climb or descent through traffic to a more fuel-efficient or turbulence-free altitude, although they will still have to request clearance for the manoeuvre from ATC. Eurocontrol said ATSAW will also support visual separation on approach, and it will be able to provide traffic situational awareness on the airport surface.
The technology employed in the Swiss A330 ATSAW is automatic dependent surveillance-broadcast-in (ADS-B In), which picks up signals from other aircraft transponders or ADS-B-Out. Airbus provided the ATSAW used by Swiss, and its traffic information is integrated with the navigation display, but an ATSAW display can be provided on a Class 2 or Class 3 electronic flight bag screen. Honeywell provides the traffic computer.
Eurocontrol explained: "ADS-B is a surveillance technique allowing aircraft to broadcast their identity, position and other information derived from on-board systems. This signal can be captured for surveillance purposes from the ground through ADS-B Out, or viewed on board other aircraft through ADS-B In. ATSAW enables traffic situational awareness, spacing, separation and self-separation applications."
The ultimate intention under the Single European Sky programme is that ATSAW, backed with other sensor equipment, will enable pilots to conduct their own separation, but this is not expected to be achieved until about 2025."
Commentaires
Poster un commentaire